Download our free eBook for an insider playbook and a winning P2P strategy.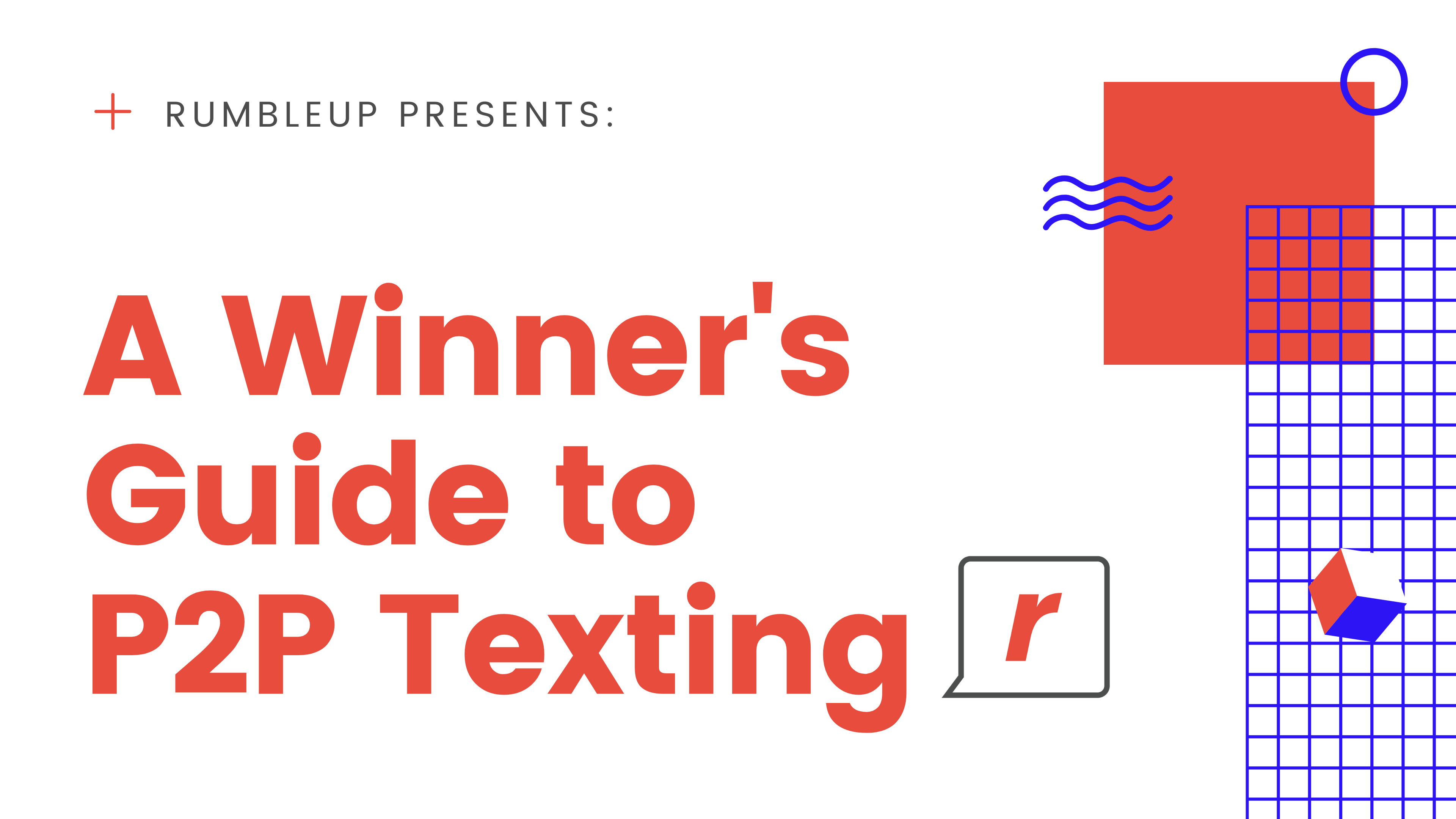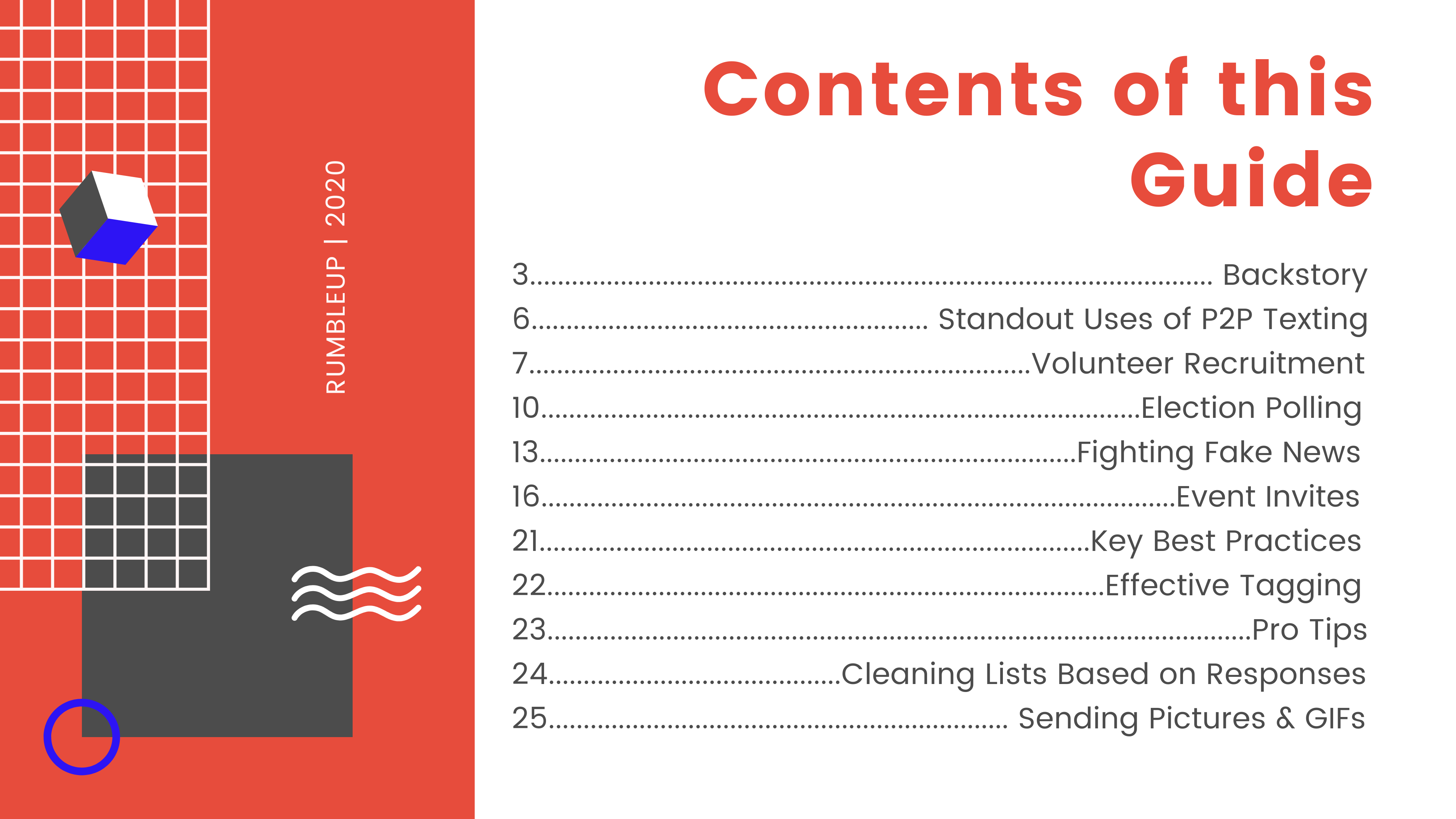 This exclusive guide maps out key ways to integrate P2P texting into your outreach strategy and gives an in-depth look at how a real campaign used relational organizing via texting to defeat a sitting incumbent and flip a Senate seat.
Download this roadmap to victory by filling in the fields below.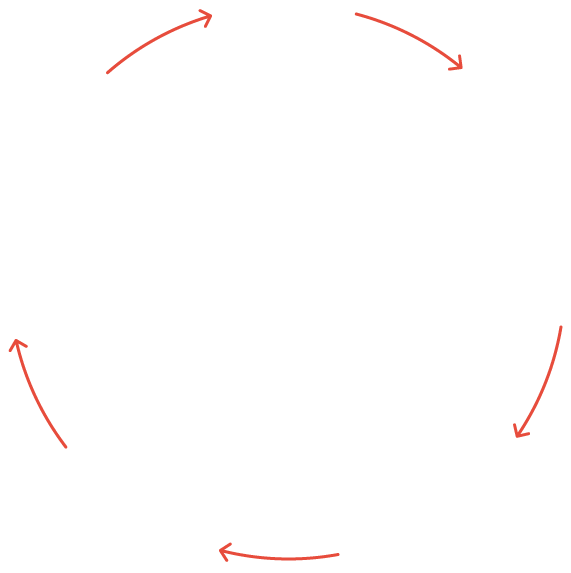 Create the 320 character text
message you want to send.
It can include trackable links,
embedded pictures,
videos or GIF's!
Our interactive dashboard allows
you to see everything at glance.
View all messages sent and
received using a wide variety of
filters, create new audiences, and
chat back and forth with people!
Invite your team to join and
send out messages. Gamified sending makes it easy and fun
to monitor progress and track who your top senders are.
Create and manage audiences
right inside the portal. Upload
phone numbers, names and
any custom fields you want
to pull into messages.
Once your message is ready have
your team start sending texts
and responding to people.
You can send messages and
add tags to respondents
via desktop or mobile app.
What makes rumbleup different?
rumbleup was born in the world of politics
to cut through the noise and annoyance
of advertising and instead engage people
in personal 1-to-1 conversations that move
the needle. We can even help you text people
who can't be contacted using traditional
mass-texting services.
We're now proud to offer this groundbreaking

solution to every type of text communication.
rumbleup is the first turnkey P2P (peer-to-peer)
texting solution for everyone — if you want to use text to get noticed and get results, rumbleup is able to make that happen.
10¢ per SMS

13¢ per MMS

3¢ per Lookup (Optional Landline List Cleaning)

Tutorial Videos

Templates

Tagging

Knowledge Base

Image/Video Attachment (MMS)

Fundraising/Link Tracking
9¢ per SMS

12¢ per MMS

2¢ per Lookup (Optional Landline List Cleaning)

Tutorial Videos

Templates

Tagging

Knowledge Base

Image/Video Attachment (MMS)

Fundraising/Link Tracking

Email Support (2 Tickets/Month)
8¢ per SMS

11¢ per MMS

1¢ per Lookup (Optional Landline List Cleaning)

Tutorial Videos

Templates

Tagging

Knowledge Base

Image/Video Attachment (MMS)

Fundraising/Link Tracking

Email Support (4 Tickets/Month)

Live Strategy Session